We love clocks because we're sticklers for time. Or it could be the other way around.
What we're sure of, though, is that we can't say no to clocks that bring us back to the good old days. Take our Space Invader Wall Clock for example.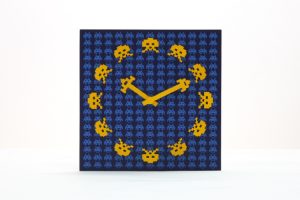 How can not want that on your wall?
If your tastes are anything like ours, you'll also be delighted with this new gizmo that's an awesome tribute to the Game Boy.
Merchoid is accepting pre-orders for the Game Boy Alarm Clock, which is due to ship on the 30th of March – a few days from now!
Doesn't that bring you back to the times when you would go to school so proud that you had a Game Boy with you? Or, if you didn't have one, the times when you were envious of your classmates who did…sorry to bring back not-so-pleasant memories…
If you're part of the latter group, this is your chance to level up. You may not have had a Game Boy as a kid, but you can have one on your bedside table to wake you up. Complete with button mashing if you're not a morning person.
The clock is official merch, so you're sure you're getting the good stuff.
Product description:
Enjoy the perfect start to every day and make sure you're never late for your next adventure with this fantastic Game Boy Alarm Clock. Wake up to memories of your favourite Nintendo characters, like Mario, Donkey Kong and more, every morning, as this fabulous clock plays the official Super Mario Land theme tune when the alarm sounds, offering pure nostalgia for lovers of the franchise.
There are only 6 units left (as these words are being written), so hurry up and shell out $32.99 for your own Game Boy Alarm Clock now.