Beer lovers who happen to be Star Trek: The Next Generation fans, here's Santa's gift to you this Christmas.
Well, technically it's from the Shmaltz Brewing Company, who has been making "exotic" beer enthusiasts happy since 1996.
Introducing the Star Trek: The Next Generation Captain's Holiday.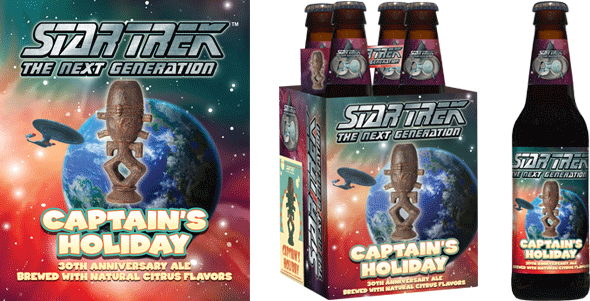 The fact that it is a Star Trek TNG beer should be enough to convince you to stock up on the drink, but of course, we understand your desire to find out what's exactly in the brew. You know, just so you don't end up in the sick bay in case…
The brewery keeps is short and simple. The Star Trek TNG beer:
MALTS: 2-Row, Red-X, Victory, Flaked Oats
HOPS: Citra, Amarillo
Brewed with: Orange Peel and Lime

5.5% ABV
You good with all that?
So where does the inspiration for the brew come from?
Do we really have to explain? Well, to be honest, we had to have our memories refreshed, too, so here you go:
In the Star Trek™: The Next Generation episode "Captain's Holiday", the crew convinces Captain Picard to take a much needed vacation on the pleasure planet Risa. Number One (Commander Riker) tricks the Captain into buying a small statue called a Horga'hn when he arrives. After being accosted by a steady stream of women, he is told that displaying the statue in public suggests he is seeking Jamaharon.

Whether for Jamaharon or simpler moments of pleasure, our tropical getaway should be perfect for kicking back and escaping the stresses of everyday life here on Earth. Enjoy the lemon, lime and orange citrus hop flavors of Captain's Holiday Ale and engage in a well deserved vacation with every sip.
Mouths watering as the letters appear on the screen…
The ale is available in 4-packs and draft. Where do you find it? Here's a list of locations/distributors. Good luck!